Lately, I've been attempting to restrict how much anime I watch per season so I can devote my time to a variety of things. I've managed to get that number down to a few so I want to share the top four shows that I'm looking forward to this season. They are all fairly different and so far have me pretty excited.
#4 – Drifters
The series created by Kouta Hirano, author of Hellsing, has me interested. It took me about half of the first episode to decide if I was going to mark this one as good, but eventually the odd premise had me hooked. Basically, prominent warriors throughout history are thrown into some kind of endless battle after they die. So far, my favorite character is the one that I assume I will see the least of and who I can only describe as the overseer of the afterlife (or Cecil Baldwin from Welcome to Night Vale. Either one.)
The extremely unique style and with a plot that is half-battle royale, half-Death Parade has me staying for a few more episodes at least.
#3 – Haikyuu!!: Karasuno Koukou VS Shiratorizawa Gakuen Koukou
As usual, Production I.G astounds me. I love the Haikyuu!! manga and the anime is brought to life in ways that are so very satisfying. Scenes in the manga that I want to experience animated happen with the same emotion that I felt while reading it. And its just animated so damn well.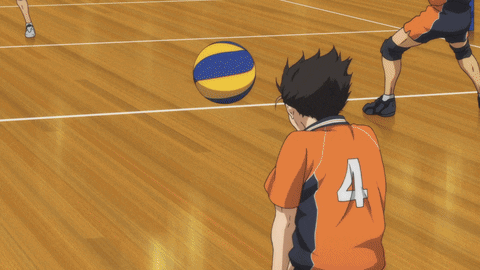 Besides the animation, the story is amazing at focusing on a lot of different characters, so while Hinata and Tobio count as the "main characters" they are far from the only ones you get to see.
This entire season is set around one match and I am strapped in for the long haul.
#2 – 3-Gatsu no Lion
I read this manga a long time ago and I'm pretty excited to see it move. 3-Gatsu no Lion centers around the life of a 17 year-old pro shogi player who seems to be losing touch with the world. Along with Drifters and Haikyuu!!, this anime sticks very close to the style of the manga, helping it stand out against the current trend of generic anime stylization.
I love slice-of-lifes, especially when they focus on people who are usually considered outcasts, whether they be weird or geniuses. Watching what happens when other people place expectations on someone usually leads to an interesting story. I'm going to stick with this one all season and go pick the manga back up again.
#1 – Occultic;Nine
This one is weird. I'll warn you up front. Which is usually a good way to end up at the top of my list. The best way I can describe it is a cross between Bakemonogatari and Durarara. The main character's voice actor played Katsuhira from Kiznaiver and the music fits the mood pretty well.
I dislike some of the shots of one of the characters (emphasizing the size of her breasts as if that couldn't be understood from any normal shot) but I'm setting that aside for the first episode to give it a chance.
The presentation is quick and the dialogue is fast as hell, something that I'm particularly fond of as it doesn't forgive you for missing anything. So far, the story doesn't feed you things they've already covered and instead uses that time to fill every part of the episode with information. I love the feel of this one and I hope it keeps the momentum it gained from the first episode.